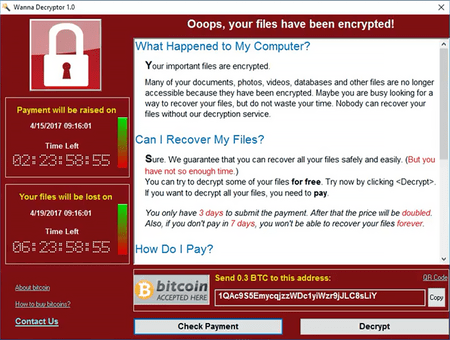 Todo sobre Ciberseguridad
NextVision
En las últimas horas varias compañías internacionales han recibido ciberataques, paralizando parte de las redes informáticas y afectando tanto sus operaciones como el trabajo de cientos de empleados.
El caso más impactante es el de Telefónica, quien sufrió un ataque masivo de Ransomware.
El monto del rescate no está claro, pero se habla de que podría equivaler a 300 dólares por equipo infectado o a 300 bitcoins, que serían aproximadamente 509.487 euros.
INFORMACIÓN Y RECOMENDACIONES
1)El ransomware, una versión de WannaCry, infecta la máquina cifrando todos sus archivos y, utilizando una vulnerabilidad de ejecución de comandos remota a través de SMB, se distribuye al resto de máquinas Windows que haya en esa misma red.
Los sistemas afectados son:
Microsoft Windows Vista SP2
Windows Server 2008 SP2 and R2 SP1
Windows 7
Windows 8.1
Windows RT 8.1
Windows Server 2012 and R2
Windows 10
Windows Server 2016
Microsoft publicó la vulnerabilidad el día 14 de marzo en su boletín y hace unos días se hizo pública una prueba de concepto que parece que ha sido el desencadenante de la campaña.
Se recomienda actualizar los sistemas a su última versión o parchear según informa el fabricante:
https://technet.microsoft.com/en-us/library/security/ms17-010.aspx
2)Es FUNDAMENTAL trabajar en una estrategia de seguridad para prevenir este tipo de malware. Pueden ver nuestro documento con buenas prácticas para combatir un ataque Ransomware.
3)Además, los invitamos a revivir nuestro webinar sobre el tema:
4) Para los clientes de Symantec Endpoint Protection, ES PRIMORDIAL migrar a la nueva versión 14. La versión 12 no frena esta nueva versión. MIGRÁ AHORA FÁCILMENTE.
Por cualquier duda, contactanos!